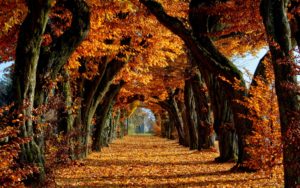 The days are getting shorter, the light becoming more yellow, and the air has a crispness to it. The kids are headed back to school, and an excitement of new beginnings comes up within me unlike any other time of year. For some, it's New Year's, but for me, fall is the time of year that I feel compelled to assess what is working in my life, and what isn't, and then start to make some needed changes.
Taking time to sort out what serves us versus what is no longer needed in our lives is one of the gifts Chinese Medicine sees in this season. Like the leaves falling from the trees, fall asks us to think about what we need to let go of so that we can be the best version of ourselves that we can be. Some questions to consider for this season: Am I doing everything that I possibly can to support myself to fulfill my purpose in life? How am I getting in my own way? Am I eating foods and consuming drinks that truly nourish me? Am I eating consciously or instead choosing to stuff my face or eat when the clock says I should, and not when my body tells me to? Am I exercising, meditating, and practicing other lifestyle choices that best fuel my body, mind, and spirit? What stories am I telling to myself and others about the phenomena that occur in my life? Am I spreading gossip or fueling discontent? How is the energy of my home, car, and office? Are they cluttered and messy, or do I feel at peace when I am in those spaces? Am I yelling at my kids too much? Am I spending time with friends? Am I taking enough time with my spouse to nourish our relationship and marriage? Do I spend quality time alone? Am I hesitating to follow my path because I'm scared or making excuses? Do I need to ask for help? What am I avoiding or not consciously looking at within myself? Just to name a few, because I could keep going on and on.
I am perpetually curious about myself and always looking for ways to improve and be the best person and practitioner I can be. I invite you to do the same; it's part of the charge of living life boldly and embracing what life and each season has in store for us. Take some of the questions I have above, and add your own if you want, and then journal about what comes up for you in response. If you are getting in your own way, and there is something you need to let go of, what is it? How can you find support in letting go of this?
Acupuncture treatment can help us to more easily determine what is serving us in our life, and what needs to be put aside. It can make clear for us what may be currently murky. How? Acupuncture is a system of medicine that is thousands of years old, and uses needles inserted into specific points of the body to bring balance to body, mind, and spirit. It taps into energy pathways of the body that flow through us like rivers. When life gets in the way, blocks to this energy flow occur, like beavers building dams in rivers. It's my job as an acupuncturist to bust up those dams so that the energy flows freely. When the energy flows, then it becomes easier for you to make choices that support your health because you feel better physically, have more clarity of mind, and feel more connected to your intuition.
As a licensed doctor of acupuncture, there is nothing I love more than working with patients to help them find their purpose in life. We tend to get mired in our hectic schedules, family and work commitments, and the thought of all the people depending on us, and put our own needs and desires aside. However, the world needs you at your best, and you have special gifts and talents that no one else possesses. So this fall, what of the burdens you've been carrying on your shoulders and back are you willing to put down? What are you ready to throw away so its toxicity doesn't pollute you? Who is on your support team to help guide you and be by your side, as the new you emerges? I know that I, and the rest of the team at Sagelight Integrative Wellness Center, would love to be there for you if you do need an extra cheerleader or two!
~Dr. Jen Yocum, D.Ac., L.Ac., RYT200, Acupuncturist, Reiki Master, Yoga Teacher~
Dr. Jen Yocum is a licensed acupuncturist, a Reiki Master and a yoga teacher. Jen is passionate about working with people who strive to become the best versions of themselves. Jen provides Chinese Medicine-based nutrition principles and lifestyle recommendations to her patients both in-person and online through her weight loss coaching program, The Chinese Medicine Cleanse. She additionally specializes in treating anxiety, depression, and urogenital concerns—to including fertility, for all genders.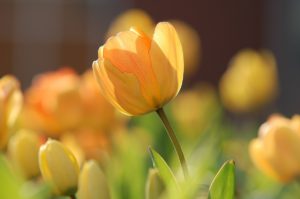 On an early summer evening, I stroll slowly around my yard tailing my ever vibrant and active preschooler. I contemplate on the events coming through the crashing wave we know as summer. Any one of these thoughts could send me personally into a tailspin of list making and planning….but not tonight. Tonight I am struck by a familiar and comforting scent. The scent is honeyed with an almost fruity tonality to it. It is heady and intoxicating and the whiff is carried through the air as a sweet blend of yellow floral and a nectarous dream. Honeysuckle has bloomed in my little corner of the mid-atlantic up the trees and through hedges.  The scent of honeysuckle intensifies with the fall of the evening sky.   This alluring scent invites evening strollers into a sensual, narcotic embrace. Yet amidst all this intoxication there is a markedly light-hearted, peaceful, and serene quality that honeysuckle envelopes the wanderer within.
Do you remember how it felt when you graduated high school? That intense feeling you were on the precipice of something amazing? Your life was wide open before you, with endless possibilities? This sense of life, amazement, awe, and intrepidness is what the summer holds for me. The scent of honeysuckle envelopes me as the season turns from the flurries of life and returns to the fullness of living life.
Chinese medicine correlates the summer with the element of fire, and it couldn't be more fitting. Fire brings life with the sunlight and burns waste to ashes to create life again from the dust. It can also be all consuming with wildfires and raging out of control, a need that is never met.
Summer gives us extra hours in the day to fully enjoy the warmth the sun and truly embrace life. We can also play too hard, for too long resulting in heat stroke or dehydration. But 'never fear!' your trusty acupuncturists are here! Our goal is to remind you and your body how to harness the goodness of the lovely, warm, long and lingering days of summer. To give the tools of storing the essence of summer and feel fully refreshed, fueled, and happy to recreate those warm breezes on a cool autumn night.
Whether you are going in for weekly treatments to keep yourself on track, or you've graduated to a state of self healing, it is always a good idea to make sure you visit your acupuncturist with the change of seasons. This practice helps to keep your body tuned and ready to face the new and unique demands each season brings with it.
What has been coming across my prevue is an increase in summer time colds which maybe due to the deluge of rainstorms we have been living in recently. Perhaps we are feeling the effects from an influx of dampness, as we say in traditional Chinese medicine. Could we be feeling the effects of an overly aggressive bloom of mold brought on by all the rain, as a western allergist might suggest? What ever the reasoning, it is here, affecting our lives. Acupuncture is great line of defense against this invader known as the 'summer cold'.
Perhaps you will be able ride on the winds of change and glide through this summer with grace and ease, which is my sincere hope for each and every one of you. Let this summer, the season in your life, be bold, beautiful and vibrant. Honeysuckle lends itself naturally to 'la vita bella'-the good life. It about creating the joy of grasping immediate pleasure and allowing yourself to fully opening your senses and savor the moment. Great ways to embrace the season are outdoor activities like a picnic in a vineyard with your loved ones. Walking barefoot in the fresh dew that lingers on the grass just after sunrise. Kiss that pretty man or woman that you love unexpectedly. Let your summer flame burn bright, and be ever present.
Love and Peace,
Hannah
Hannah Sykes is an Acupuncturist at Sagelight Integrative Wellness Center. She treats humans and animals and holds a Master's Degree from Maryland University of Integrative Health in Acupuncture and a graduate certificate in animal acupuncture. To find out more about Hannah, please visit our practitioner page.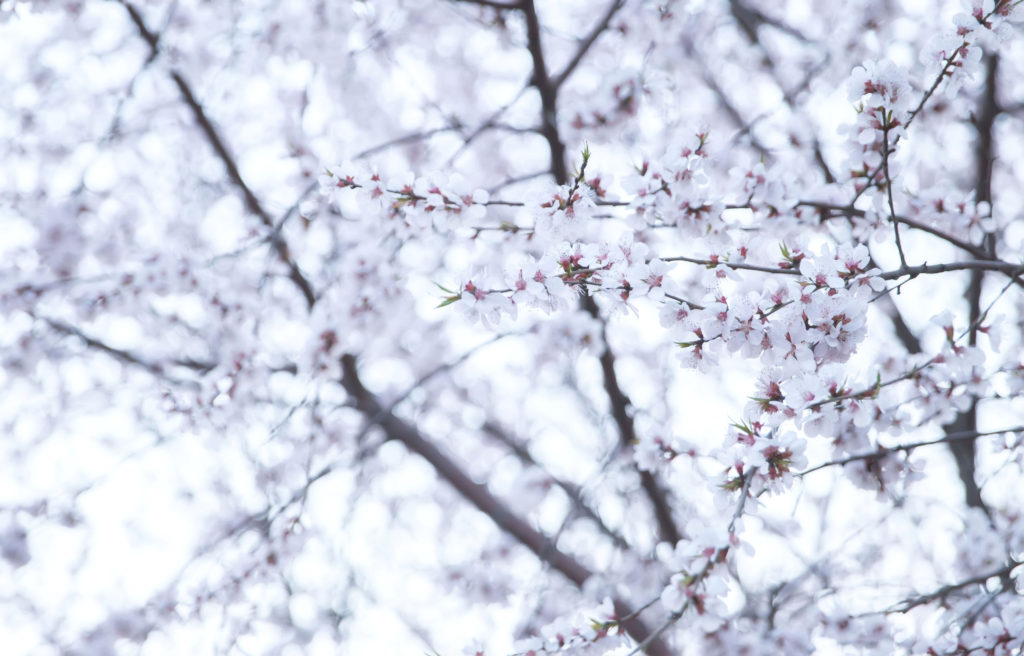 Spring is here! The daffodils are blooming, the birds are singling, the days are longer and the light has that fresh brand new world feeling every morning. The morning sky looks like Easter eggs and smells like hope. And, fortuitously aligning with the spring, we are launching our new wellness center, Sagelight Integrative Wellness Center, April 3rd!
This our very first blog post, and the topic is staying in alignment with the spring energy. Spring is a crazy season, full of change and surprises. As I write this, on March 21st, it is the spring equinox, and we're in the middle of a nor'easter. The snow is comin' down! 10 inches on the ground already and the storm's not even done yet. Next week it will be in the 60's. Over the last 20 years as an acupuncturist, I've noticed that this is the time of the year when people really get sick. It's 65 degrees, they break out their flip flops and tee shirts. Two days later is back in the 30's, and they don't don their boots and scarves and hats again, they come into my office in a windbreaker with the sniffles. It's hard to change that fast.
But 'tis the season…for change, in all ways. How does one stay balanced in this season?
Some tips from a Chinese medicine perspective:
*Eat foods that are in season. Asparagus, new leafy greens like arugula, baby spinach, fresh peas.
*Incorporate sour tasting foods, like lemon (put it in your water!), and fermented foods like kombucha, kefir and Greek yoghurt.
*Be flexible with the weather! Check the weather, and how strong the winds are, before you leave the house, and dress accordingly. Be smart, not stubborn. Wear scarves. I know it should be warm. But if it isn't, it isn't. Mother Nature doesn't apparently notice your flip flops and go "Oh! Right! I forgot to make it warmer! Good thing that young sassy lass wore her flip flops to remind me!"
*Start adding more stretching or yoga to your daily routine, the season of spring in Chinese medicine relates to the tendons, keep them limber!
*Start exercising more, your body wants to move, and wants challenges, in this season. Maybe take a new exercise class or learn a martial art,  mix it up!
*Start some spring cleaning! Organize a closet, finally wash your windows, de-clutter your home. Create room for newness.
*Get creative, spring is the season that is related to creativity, so redecorate your living room, take a pottery class, try some new recipes. Be as unpredictable as the weather. Welcome change, it's good for your soul.
*Do something surprising and spontaneous, like take an impromptu trip with your significant other on one of those cheap flights you can get last minute. Roll down a hill. Suddenly skip. Try a weird fruit you've seen at the Korean grocery store. Surprise yourself.
If you take even one of these suggestions on (but hey, why not all of them, it's the season of change and challenge after all!) you'll find you'll be less likely to get sick, less likely to get grumpy with the weather, the traffic….life will feel less like life is an obstacle to be overcome and more like a delightful challenge to meet and embrace.
And while you're at it, swing by Sagelight and get an acupuncture treatment or a massage, check us out. I'll even suddenly skip with you. I promise.
-Kaiya Larson, M.Ac., L.Ac.
Acupuncturist and co-founder and owner of Sagelight Integrative Wellness Center and Wellspring Within Fertility Center
Sagelight Integrative Wellness Center
10450 Shaker Drive, Suite 113
Columbia, MD 21046
Phone (410) 730-1499
Email: info@sagelightwellness.com
Hours of Operation: Mondays 9:00am-12:00pm, Tuesdays 11:00am-6:00pm, Fridays 10:00am-7:00pm, Saturdays 8:00am-2:00pm.
We accept insurance. Please contact us for details.