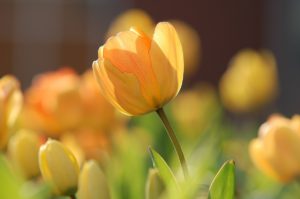 On an early summer evening, I stroll slowly around my yard tailing my ever vibrant and active preschooler. I contemplate on the events coming through the crashing wave we know as summer. Any one of these thoughts could send me personally into a tailspin of list making and planning….but not tonight. Tonight I am struck by a familiar and comforting scent. The scent is honeyed with an almost fruity tonality to it. It is heady and intoxicating and the whiff is carried through the air as a sweet blend of yellow floral and a nectarous dream. Honeysuckle has bloomed in my little corner of the mid-atlantic up the trees and through hedges.  The scent of honeysuckle intensifies with the fall of the evening sky.   This alluring scent invites evening strollers into a sensual, narcotic embrace. Yet amidst all this intoxication there is a markedly light-hearted, peaceful, and serene quality that honeysuckle envelopes the wanderer within.
Do you remember how it felt when you graduated high school? That intense feeling you were on the precipice of something amazing? Your life was wide open before you, with endless possibilities? This sense of life, amazement, awe, and intrepidness is what the summer holds for me. The scent of honeysuckle envelopes me as the season turns from the flurries of life and returns to the fullness of living life.
Chinese medicine correlates the summer with the element of fire, and it couldn't be more fitting. Fire brings life with the sunlight and burns waste to ashes to create life again from the dust. It can also be all consuming with wildfires and raging out of control, a need that is never met.
Summer gives us extra hours in the day to fully enjoy the warmth the sun and truly embrace life. We can also play too hard, for too long resulting in heat stroke or dehydration. But 'never fear!' your trusty acupuncturists are here! Our goal is to remind you and your body how to harness the goodness of the lovely, warm, long and lingering days of summer. To give the tools of storing the essence of summer and feel fully refreshed, fueled, and happy to recreate those warm breezes on a cool autumn night.
Whether you are going in for weekly treatments to keep yourself on track, or you've graduated to a state of self healing, it is always a good idea to make sure you visit your acupuncturist with the change of seasons. This practice helps to keep your body tuned and ready to face the new and unique demands each season brings with it.
What has been coming across my prevue is an increase in summer time colds which maybe due to the deluge of rainstorms we have been living in recently. Perhaps we are feeling the effects from an influx of dampness, as we say in traditional Chinese medicine. Could we be feeling the effects of an overly aggressive bloom of mold brought on by all the rain, as a western allergist might suggest? What ever the reasoning, it is here, affecting our lives. Acupuncture is great line of defense against this invader known as the 'summer cold'.
Perhaps you will be able ride on the winds of change and glide through this summer with grace and ease, which is my sincere hope for each and every one of you. Let this summer, the season in your life, be bold, beautiful and vibrant. Honeysuckle lends itself naturally to 'la vita bella'-the good life. It about creating the joy of grasping immediate pleasure and allowing yourself to fully opening your senses and savor the moment. Great ways to embrace the season are outdoor activities like a picnic in a vineyard with your loved ones. Walking barefoot in the fresh dew that lingers on the grass just after sunrise. Kiss that pretty man or woman that you love unexpectedly. Let your summer flame burn bright, and be ever present.